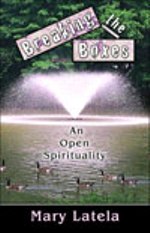 Breaking the Boxes: An Open Spirituality

ISBN: 1-4241-1606-6, 168 pages, 5.5 x 8.5,

Retail price: $19.95
This is a story of disappointment and hope, transformation from victimhood to empowerment, untangling unhealthy webs of quasi-spiritual "organized" faith groups, establishing the clarity of open spirituality.
From the backcover of Breaking the Boxes...
Mary Latela claims that religion wrapped itself around her, first bringing structure and certainty, then a choking tangle of confusion and disappointment. This dramatic and fast-paced adventure is the basis for Breaking the Boxes: An Open Spirituality. In place of the image of houses of worship or "faith communities" as locked boxes which often exclude some and privilege others, Mary proposes a spirituality based on open hearts and minds. Personally, this involves an intense, painful, yet often humorous examination of life lessons about spiritual health and spiritual sickness, healing, and release. Grappling with the unfolding of a religious call, Mary tells the story of wrestling with the Spirit, with her beliefs and misgivings, and with significant people in her life, in a search for her inner core—who she is and what she is doing here.